About
Davis Mallory is a Nashville based recording artist, singer-songwriter, DJ and former cast on MTV's The Real World: Denver. Davis Mallory's debut EP LOUD is available on Spotify, Apple and Amazon!
Born and raised in Marietta, GA, Davis grew up singing in his church choir. After graduating college from Stetson University, Davis auditioned and was cast on MTV's The Real World: Denver and starred on MTV Challenges: The Inferno 3, The Duel 2  and Rivals. Davis' love for music lead him to a role as the music host for MTV's NewNowNext.com. Davis attended Dubspot School of Electronic Music studying DJing & audio production, and began DJing throughout New York – his debut DJ performance was at the legendary nightclub Pacha.
Davis also began songwriting, collaborating with New York artists on co-writes and writing toplines over EDM instrumentals. Already having an intriguing story to tell, Davis gave a TED Talk on his path out of Reality TV and into the music industry titled "Achieve Your Creative Dream."
A Day In the Life (Nashville Edition)
In 2013 Davis left New York and moved to Nashville, TN to sharpen his songwriting skills and to record original music. Throughout 2013-2017 Davis wrote over 300 songs with notable songwriters, producers & artists including: Roger Murrah (BMI Songwriter of the Decade), Robert Ellis-Orrall (producer of Taylor Swift's debut album), Scot Sax (Grammy-winning songwriter for Faith Hill & Tim McGraw's "Like We Never Loved At All"), Matraca Berg (3-time Grammy nominated songwriter with songs recorded by Dixie Chicks, Deana Carter), Raquel Cole (Canada CMA Discovery Award Artist), Thom Scuyler (inducted into the Nashville Songwriter Hall of Fame), and others.
In 2014, Davis' MTV co-star Diem Brown passed away from cancer and he wrote a tribute song called  "Beautiful Girls (Diem Brown's Song)" with songwriters Ben Goldsmith and Tori Tullier. Davis, Ben and Tori then wrote the song "Anyone Would Know" (about Davis' last boyfriend in New York City). Swedish DJ/Producer John Dahlback (Lady Gaga, Swedish House Mafia & Avicii) released his remake of the song on his EP Color in My heart. John's version can be heard here: "Anyone Would Know" signed to Armada Records.  ​
Davis released an original holiday song 
"Box it Up"
 co-written with Clayton Jones lead singer of the band 
The Madison Letter 
and produced by Josh Sudduth of 
Relient K
. "Box It Up" became the most played holiday song in What's In Store's retail radio stations during the 2016 holiday season with over 500,000 spins.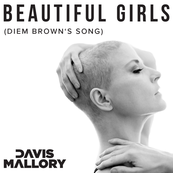 Davis spent the end of 2017 living in Europe, attending Amsterdam Dance Event, and collaborating with artists, DJs and producers in France, Amsterdam, London, Sweden and Denmark.
The first song to come from this experience is entitled,
"Dance With Me"
 by French DJ Loic Penillo. The track is signed to the French record label Sidekick Music, and the music video became an Official Selection at the 2018 Out Web Film Festival in the Music Category; the video airs internationally on OUT TV, Promo TV music video channel in Europe and on MTV France.
Davis' second release of 2018 is with Indian DJ Cosmos, entitled
"Let Me Go in Peace,"
  a duet with female vocalist Luma. The track debuted at #2 on India's iTunes Alternative Charts with support by Asia's largest music festival – Sunburn Festival.
Davis also wrote
"Sun and Moon"
during the trip to Malmo, Sweden. "Sun and Moon" is an autobiographical story about the end of his last relationship – and is the first solo release by the artist. The video premiered in
Billboard Pride
June 2018.