About
Davis Mallory is a Nashville based recording artist & DJ, SESAC songwriter, Armada vocalist, Delecta Records Spotlight Artist represented by AMAX Talent, and former cast on MTV's The Real World: Denver. Davis Mallory's debut EP LOUD is  available on Spotify, Apple and Amazon!
Born and raised in Marietta, GA, Davis grew up in a musical family singing in his church choir. His uncle John Mallory is a songwriter who has written songs recorded by Amy Grant, Sixpence None the Richer and Wynona Judd. His uncle Chaz Corzine is an artist manager who managed many artists including Amy Grant, Joy Williams of The Civil Wars and currently manages Christian recording artist Michael W. Smith. It was obvious Davis would pursue a career in music, yet the result is a storied and eclectic career.
Throughout high school Davis sang in an a cappella group which spawned Dove-award winning artist Kristian Stanfill, singer-songwriter Sean McConnell (signed to Rounder Records), and Ryan Horne (whose music is featured on ABC's Nashville & Sons of Anarchy). After graduating college pre-medicine from Stetson University, Davis auditioned and was casted on MTV's The Real World: Denver. He later starred on the subsequent MTV Challenges: The Inferno 3, The Duel 2  and Rivals. This lead Davis into a role as the music correspondent for MTV's NewNowNext.com where he interviewed artists, created playlists & reviewed live shows. Davis took a turn into the business side of the music industry by working as the A&R & Marketing coordinator for Universal Music Group's Astralwerks Records. Davis attended Dubspot School of Electronic Music studying DJing & audio production, and began DJing throughout New York – his debut was at the legendary nightclub Pacha.  Already having an intriguing story to tell, Davis gave a TED Talk on his path out of Reality TV and into the music industry.
A Day In the Life (Nashville Edition)
Davis moved to Nashville, TN to sharpen his songwriting skills and to record original music. Throughout 2013-2016 Davis wrote over 180 songs writing with notable songwriters & artists including: Parson James (Kygo's "Stole the Show"),  Roger Murrah (BMI Songwriter of the Decade), Robert Ellis-Orrall (producer of Taylor Swift's debut album), Scot Sax (Grammy-winning songwriter for Faith Hill & Tim McGraw's "Like We Never Loved At All"), Matraca Berg (3-time Grammy nominated songwriter), Raquel Cole (Canada CMA Discovery Award Artist), Thom Scuyler (songwriter for Kenny Rogers, LeAnn Rimes), Bonnie Bishop (Thirty Tigers recording artist) and others. In 2014 Davis' friend and co-star on MTV's The Duel II 
Diem Brown
 passed away from ovarian cancer. In her honor Davis wrote and recorded the tribute song: 
"
Beautiful Girls (Diem Brown's Song)
"
 featured in 
People Magazine, US Weekly, E! News & MTV News
.
Davis next released "
Anyone Would Know
" a love song stemming from a journal entry, co-written with the same songwriters of "Beautiful Girls (Diem's Song)": Ben Goldsmith and Tori Tullier. Swedish DJ/Producer 
John Dahlback
 heard the track and reproduced the song including it on his 2017 EP 
Color in My heart
. John has notably collaborated with Lady Gaga, Swedish House Mafia & Avicii and his version can be heard here: 
"Anyone Would Know"
 signed to Armada Records.  ​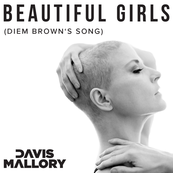 In winter 2016 Davis released his original holiday song 
"Box it Up"
 co-written with Clayton Jones lead singer of the band 
The Madison Letter 
and produced by Josh Sudduth member of 
Relient K
. "Box It Up" became the most played holiday song on What's In Store Music's retail radio stations with over 500,000 spins during the 2016 holiday season.
On January 20, 2017 Miami based producer Landis released his collaboration with Davis Mallory on the song
 "Loud
"
 which was signed to Grammy nominated French producer 
Cedric Gervais'
 record label Delecta. Co-written by Davis Mallory, Mitchell Rose, & Timothy Ryssemus, the song later went on to become the title track of Davis' debut EP. Also in January 2017, American Idol's Matt Giraud released the song 
"Faded"
 co-written with Davis Mallory, produced by KELLR, featuring rapper July 3-0, and on Valentine's Day 2017, Davis released the lead single from his debut 
EP 
LOUD
 titled 
"Under Your Spell"
 also produced by 
KELLR.
  Then French duo Vorden released 
"Because of Love (feat Davis Mallory)"
 in April 2017 which 
premiered on YourEDM. 
Davis then released the title track 
"Loud"
 accompanied with a music video on April 24, 2017 off his forthcoming debut EP.
Davis' released his full debut EP LOUD on July 7, 2017 paired with 3 versions of the title track "Loud": Landis – Loud (feat Davis Mallory), Loud (BPT Remix) and the original "Loud" produced by Ricca Vita & J. Hanna paired with a music video by director Derrick Lipschitz. The Loud EP also includes "Ocean Blue" co-written with Lockwood Barr & produced by Brazilian duo Paulo Ventura & RDR; "Be Without You" featuring co-writer Bridget Caldwell, produced by Sean Myers (who has worked with NERVO & Cheat Codes), "Not That Far Away" produced by Jon Santana, "Help!" produced by Turkish KKM Kaan, "Because of Love" produced by French duo Vorden, the new version of "Anyone Would Know" produced by John Dahlback & an acoustic version of "Distance" co-written with Bay Brooks from TV show The Voice
You can order LOUD now on Apple Music or stream on Spotify and Amazon or own limited edition physical versions here.